---
Please click here for the Shepton High School Website
JOIN SHEPTON PTSA & PURCHASE SPIRIT WEAR HERE .
*Forms will appear after you register and login
---
IMPORTANT DATES:
December 2021
Tuesday, 12/14 - Friday, 12/17 – Semester Exams
Friday, 12/17 – Last Day for Students; early release 1:00 pm
Subscribe to the PTSA Calendar
---
Order Your Yearbook!
---
Texas PTA Lifetime Member Award
The Texas PTA Life Member Award is a high honor bestowed upon an individual who has made a worthwhile contribution to the well-being of children and youth. He or she (while usually a member of the PTA) does not have to be a member of the PTA, nor must the service for this honor being bestowed be connected with PTA.
Texas PTA Extended Service Award is the highest honor that can be presented to an individual who has been actively involved in the Texas PTA for at least 10 years and has previously been honored with the Texas PTA Life Member Award noted above.
To nominate a Shepton parent, teacher, community member or staff member, please complete this form.
Completed forms should be submitted by Tuesday, November 30 to Kara Grimes, VP of Membership Shepton PTSA, at membership@sheptonptsa.org.
---
---

Lovepacs needs your help to continue to serve 1000 Plano ISD students for the 2021-2022 school year. Born out of a desire to help children in need, Lovepacs was created to provide meals to students who would otherwise go hungry during school holidays. Through coordination with local schools and its volunteers, Lovepacs engages communities to feed children as an expression of love. There are several ways to contribute. Donate online, shop the Amazon Wishlist, shop the Walmart Wishlist, or shop and drop off at one of the Lovepac drop off locations. Questions? Call 972-754-8518 or email plano@lovepacs.org.
---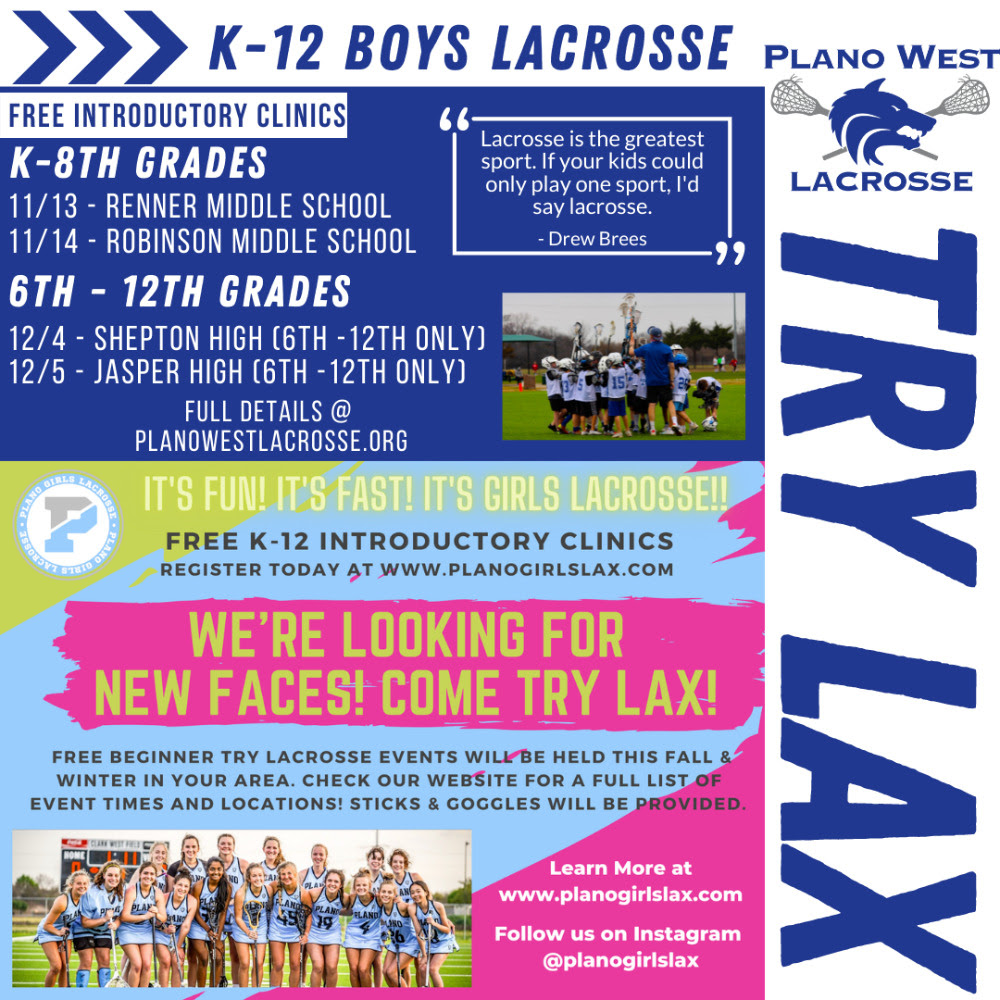 ---
SHEPTON ATHLETICS:
All schedules and booster club information for JV, JV II, and Varsity sports for Shepton/Plano West are linked HERE .
Plano ISD Athletic Event Information
Plano ISD Athletic Events information is now available. The link includes ticket information, stadium rules, live streaming information and an athletic event checklist.
PLANO ISD ATHLETIC TICKET INFORMATION 2021-22.docx
ALL NEW All-Sport Athletic Passes! Purchasing this pass will cut down on credit card and ticketing fees, and will ultimately save our families money that attend many events.

10 Events: Adults $40.00 Students $20.00

20 Events: Adults $80.00 Students $40.00

10 Events: Adults $50.00 Students $30.00

20 Events: Adults $100.00 Students $60.00

Middle School All-Sport Passes:

9th-12th Grade All-Sports Passes:

All-Sport passes are not accepted at Varsity Football Games
Varsity Football Season Tickets are now available for purchase. All season tickets can be purchased at PISD Ticket Link
NFHS Streaming will be available at all:

MS Football Games

HS Home--Volleyball, Football & Basketball Games

SH Home--Volleyball, Football, Basketball, Softball & Baseball Games
---
PTSA Reflections
Summer is a great time to start working on a Reflections project! I Will Change the World By... is the new theme for 2021-2022.
Students can choose from six categories: Dance Choreography, Music, Literature, Photography or Visual Arts. More info HERE
---
2021-2022 VOLUNTEERS:
New Plano ISD Volunteer Management System
Starting on July 7, volunteers will be able to access the Plano ISD volunteer management system, VOLY, to create an account and complete an application, online orientation, and criminal history check. These items need to be completed each school year by volunteers to be eligible for district/school volunteer opportunities. Volunteers can visit plano.voly.org to create a volunteer account and begin this process.
An email will be sent to the volunteer applicant communicating the status of their application and criminal history search within 3-5 business days of completing these steps. Volunteer approval status can also be viewed by the volunteer by logging into their account. Volunteers will need to complete the online orientation as well to be eligible to volunteer.
Once approved, they will be able to sign up for volunteer opportunities directly through the VOLY platform at plano.voly.org. Volunteers should be sure to select all of the schools they are interested in volunteering with when asked on their application. This will allow campuses to see their volunteers and their status in the system. These school selections can also be changed by the volunteer by logging into their account at any time.
For technical assistance with your current volunteer account, including your username and/or password, please contact the Plano ISD Help Desk at helpdesk@pisd.edu or (469) 752-8767.
Thank you for your patience as we transition to a new volunteer management system in order to improve the experience for our volunteers who are valued partners in the success of our students. We greatly appreciate your willingness to invest your time and efforts into supporting Plano ISD students, families and staff. If you have any questions, please contact askPISD@pisd.edu.
---
Help OUR ptsa when you shop
Amazon Smile
Give Back Program

Shepton PTSA will

receive a donation

of 0.5% of all eligible

sales made through our Amazon Smile account! Link your account to the Shepton PTSA charity on

and help our PTSA earn money for events and programs that benefit all students! To learn more about setting

up your account click here





Good Neighbor
Rewards Program

Tom Thumb's Good Neighbor program links your Reward Card to Shepton High School. Stop by the Customer Service desk and pick up a registration form. Shepton's number is 6657.
(This cannot be

done online.)

Note: You MUST

re-link your

rewards each year!

click here to learn

how to link your Kroger card
If you have any trouble navigating our site, please contact webmaster@sheptonptsa.org.

Shepton PTSA President
Laura Williams
Stay Connected with
Shepton PTSA
2021 PTSA AWARDS
2020 PTSA AWARDS
2019
Texas PTSA Awards
2017-2018
Texas PTSA Awards
2015-2016
Texas PTA Awards
Spring Increase Award
Members of
Shepton High School PTSA